Article Written by Joel Fritsma (LHS Class of 2018)
In this week's edition of SSAOTW, we feature two more outstanding student-athletes! Our two senior student-athletes of the week presented by JDubb's Signature Subs of Lowell are George Gonzales and Peyton Jankowski.
George Gonzales
Above – George Gonzales Wrestling
Our male senior student-athlete of the week is George Gonzales. George has played both football and wrestling at LHS during all four years.
His favorite high school memory would be the countless times he has won the state title with his wrestling team. The Red Arrow wrestling team will be going for their 5th straight state championship on Saturday, February 24th.
Even though George finds more success through wrestling, he says football is his favorite sport. George would also like to mention that his favorite athlete is R.J. Boudro, counselor and wrestling coach at the high school.
George believes that throughout all athletic and academic achievements he has acquired over all four years, receiving varsity letters in both sports was his favorite.
After graduation, George plans on transferring from G.R.C.C. to Michigan State to study agriculture, or take his studies to Alma for four years.
Finally, George added on that spending some high quality time with his friends at Lane Ryan's house had to be his favorite non-sports memory.
---
Peyton Jankowski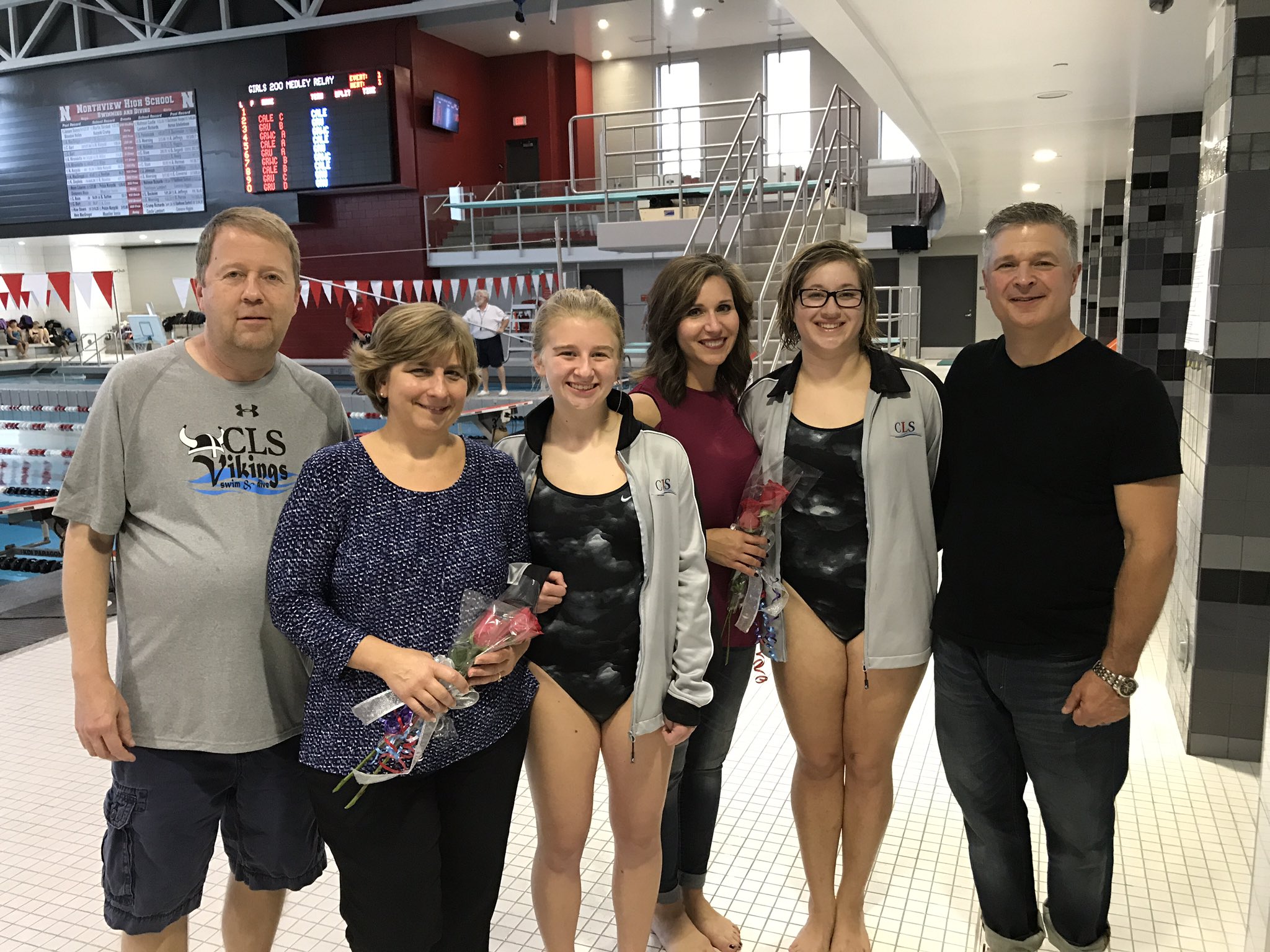 Above – Peyton (Swimmer on Right) with teammate Erin Smithee during CLS Senior Night in 2017
Our female senior student-athlete of the week, Peyton, has also been active in two sports over her four years at LHS. She began by playing soccer in her freshman and sophomore years, but has since taken her talents to swimming and diving for her final two years.
Peyton decided that when she made conference finals for swim & dive was her favorite sports memory. Swimming is Peyton's favorite sport. Katie Ledecky, an American swimmer and 14-time world champion, is her favorite athlete.
Some of Peyton's athletic and academic achievements include most improved for swim & dive, sportsmanship award for swim & dive, and academic honor roll.
Following her final days at LHS, Peyton plans on attending community college.
Below – Peyton Swimming for CLS (PC: Nikki Jankowski)

Her favorite non-sports memory was when she and the Ladies' Ensemble went to the State Festival together.
We thank these two student athletes for their dedication to the sports they took on and all they've achieved in their four year period at LHS!  Thank you to J-Dubb's Signature Subs of Lowell for sponsoring our Senior Student-Athletes of the Week.