Article Written by Joel Fritsma (LHS Class of 2018)
This week, we feature two more outstanding multi-sport student-athletes who have experienced much success in their time at LHS! Our two senior student-athletes of the week presented by JDubb's Signature Subs of Lowell are Darby Dean and Austin Whaley.
---
Darby Dean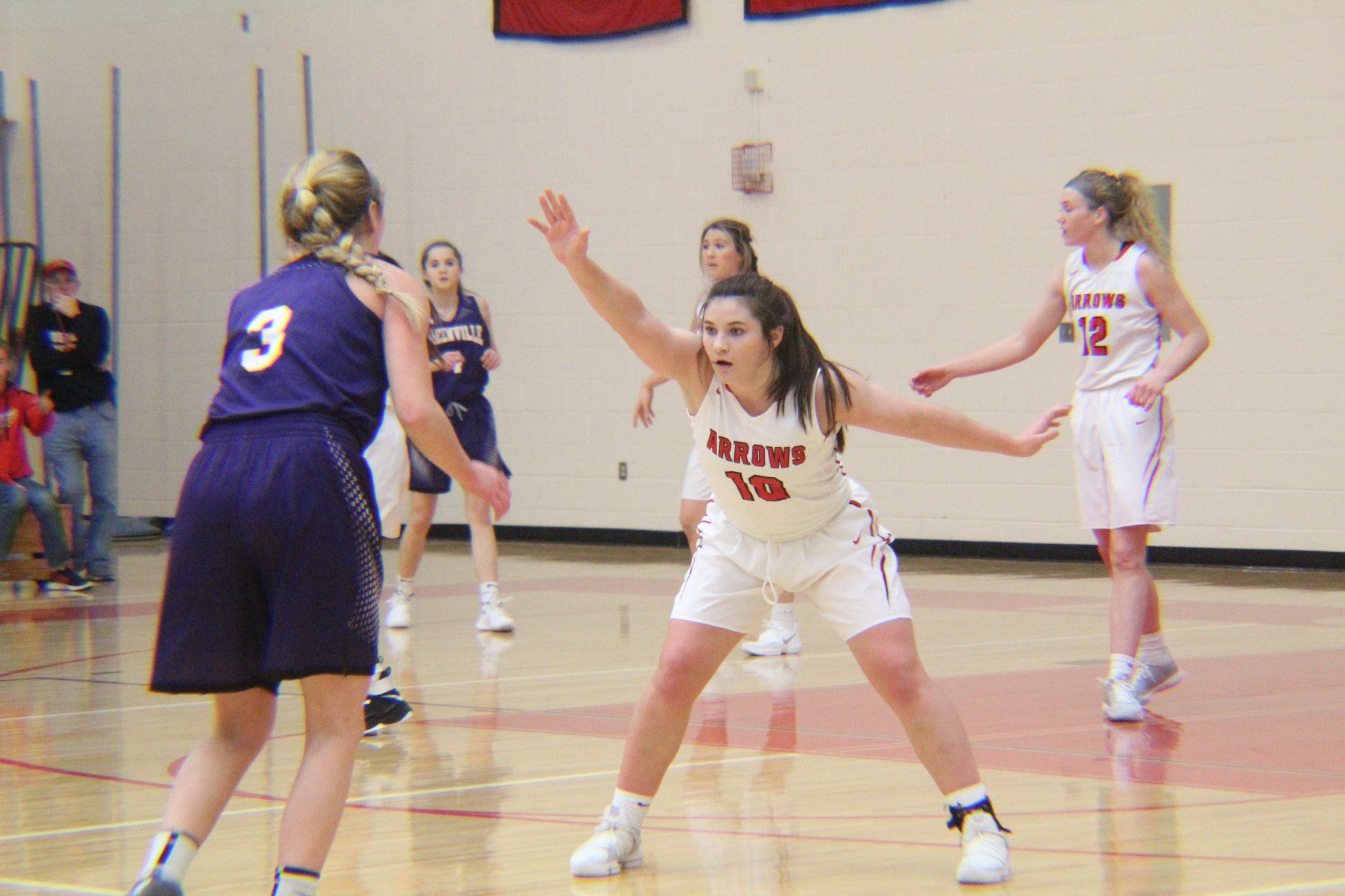 Above – Darby Dean playing defense during a basketball game against Greenville.
Our female senior student-athlete of the week is Darby Dean. Darby has played several sports during her time as a Red Arrow which include basketball (four years) and soccer (four years). On top of that, she was kicker for the varsity football team during her sophomore year and JV football team during her freshman year.
She has two favorite sports memories at LHS. The first came during her freshman year, which was when she got to play in the Pink Arrow football game. The second was when she and the girls soccer team defeated FHC.
Out of the many choices, Darby said her favorite sport is soccer. Her favorite athlete is Julie Ertz, who plays for the U.S. Women's National Soccer Team.
Throughout her four years as a student at LHS, Darby has earned multiple athletic and academic honors. These include include being all-conference and all-state as a soccer player, earning a varsity letter for football, and academic all-state honors in all three sports. In addition, Darby has made the honor roll all four years and is in the LHS National Honors Society.
Below – Darby taking a corner kick in 2017.

Following graduation, Darby plans on heading north of Grand Rapids to attend Ferris State University to continue both her academic and athletic career. There, she will play soccer for the Bulldogs. As far as her favorite non-sport memory, Darby told us that going to Costa Rica with her friends Riley Conlan and Cassie Dean during the summer of 2017 happened to be her all-time favorite.
---
Austin Whaley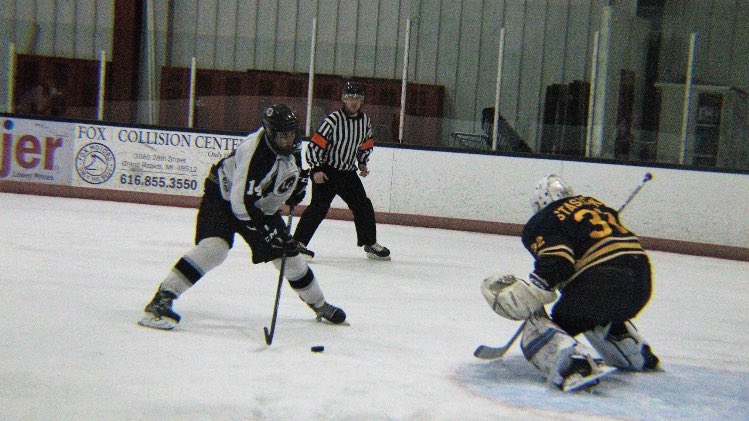 Above – Austin Whaley on a breakaway during their game in 2017 against Manistee.
Austin, our male senior-student athlete spotlight for this week is also a multi-sport athletes! In his four years, Austin has seen the ice with the Lowell-Caledonia Hockey Team from his sophomore year to his senior year, the football field all four years, and the baseball field all four years. He told us that his favorite sports memory was when he and the 2016-2017 varsity hockey team came together and sealed the deal in overtime to win the division 2 ice hockey regional title. It was a historic moment as it was the first regional title in the program's history.
Austin's favorite sport is hockey while his favorite athlete is retired QB and NFL star Peyton Manning.
Some of his most outstanding athletic and academic achievements would be being named all-conference for hockey, all-district for baseball, captain of the hockey team, and honor roll throughout all four years.
After the conclusion of his days at LHS, Austin plans on heading to Central Michigan University to continue on with hockey. He wants to earn a degree in law and econimics. While at CMU, he also plans on enrolling in the Reserve Officers' Training Corps so he could potentially someday become an officer for the U.S. Army!
We wish the two of you nothing but the best as you look forward to accomplishing your dreams in college! Thank you to J-Dubb's Signature Subs of Lowell for sponsoring our Senior Student-Athletes of the Week.