Article Written by Joel Fritsma (LHS Class of 2018)
This weeks Senior Student-Athletes of the Week are LHS bowler Carson Clark and Red Arrow gymnast and soccer player Maura Fitzpatrick!
Maura Fitzpatrick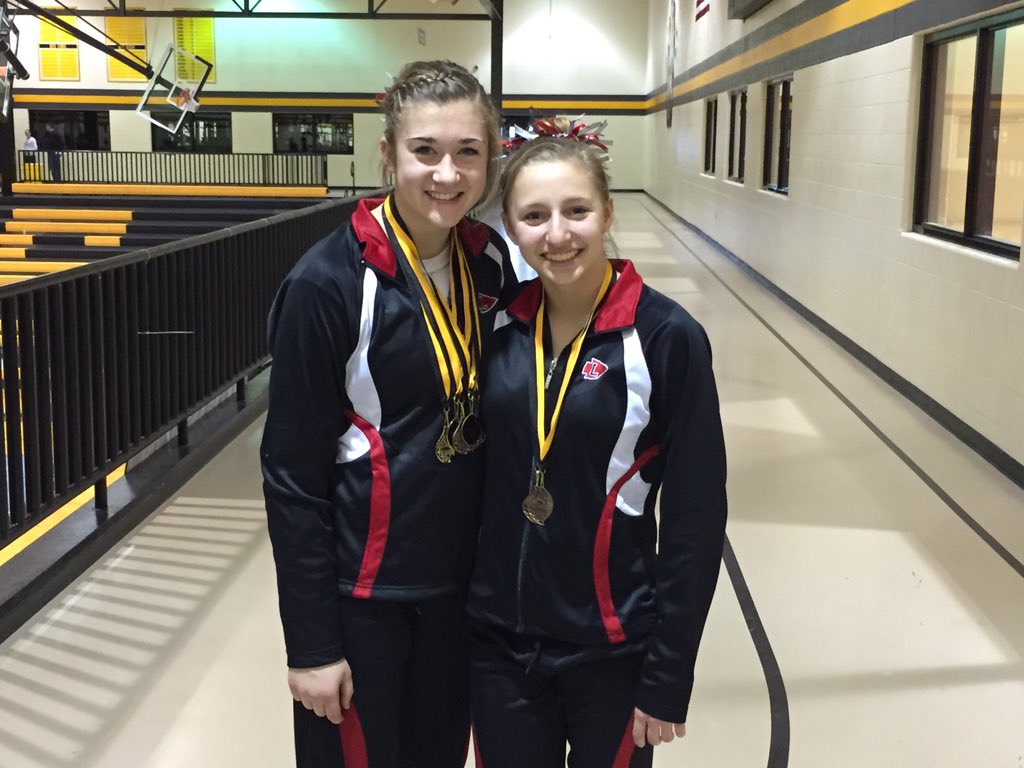 Above – Maura Fitzpatrick (left) with Karmen Anderson
Maura is one of our many talented multi-sport athletes here at LHS. She has participated in gymnastics all four years here at LHS. This spring she will play on the soccer team where she is a part of a very talented group of seniors.
Her favorite sports memory at Lowell was when her and the girls defeated Forest Hills Central at home during the 2015 soccer season. The Red Arrows beat the top-ranked Rangers 1-0.
Between both soccer and gymnastics, Maura said gymnastics is her favorite. Her favorite athlete is Aly Raisman, a U.S. Gymnast and two-time Olympian. Following graduation, Maura is planning on attending Davenport University!
---
Carson Clark
Carson is one of the top bowlers we've had at LHS in the history of the bowling program. Carson has earned honors such as all-conference, plenty of all-tournament honors, all-state last year in division 2, and made the round of 16 at individual states last year.
His favorite sports memory came in his junior year when him and the guys won the school's first ever bowl state championship by winning the MHSAA division 2 state title. Professional bowler Tommy Jones is his favorite athlete.
Carson's most outstanding athletic achievement besides winning a state title, would be that he was chosen to be the captain of the team.
Above – Carson Clark talking strategy with teammates in 2017.
Carson did share that his favorite non-sports memory happened to be when he tore apart, rebuilt, and started his engine at KCTC. Following his days at the high school, Carson plans on entering the Navy. We wish the both of you the best of luck on your next stages in life, and that you become successful in all that you decide to do!
Thank you to J-Dubb's Signature Subs of Lowell for sponsoring our Senior Student-Athletes of the Week.