LHS 2016-2017 Sports Moments of the Year
---
#1 Lowell Bowling Wins 1st State Title
Lowell Bowling's amazing Friday in Canton highlights our 2016-2017 moments of the year list. The Red Arrows went into the tournament of 18 teams and came away as champions. It was the first state title in the team's history. The team surprised the entire field, coming into the tournament unranked.
Read our full article on the team's victory HERE.
---
#2 Lowell Wrestling Wins 4th Straight State Title
Lowell defeated Warren Woods-Tower in a great state finals match to clinch their 4th straight state championship.

---
#3 Lowell Football Comes Back to Beat FHC Twice
The Red Arrow football team went head-to-head with a very talented FHC team twice this year and came out on top both times. The team needed a comeback in each game to accomplish this however. The first game was an instant classic ending with a 41-37 Lowell win. The Red Arrows trailed by 17 in the 4th quarter before scoring 21 unanswered to pick up the win. The 2nd game was just as good, a 22-19 win in the regional finals. Another 4th quarter comeback win aided by some stellar defense helped the Red Arrows prevail.
Never count out @lowellfootball. What a game by both teams. #7-0 pic.twitter.com/hM21mIQbxr

— Lowell Red Arrows (@Lowellredarrows) October 8, 2016
---
#4 Lowell-Caledonia Hockey Advances to Quarterfinals
There aren't many things more exciting in sports than playoff hockey. In a thrilling regional final, Lowell-Caledonia scored in double overtime to advance to their first quarterfinal in program history. By doing so, they also clinched the program's first ever regional championship in the win over Grand Ledge-Fowlerville. The goal was scored by Nate Regan in front of a huge crowd.
Regional Champions!! @Lowellcalhockey pic.twitter.com/MbWfpOu933

— Lowell Red Arrows (@Lowellredarrows) March 5, 2017
---
#5 Lowell Basketball Honors Veterans
Lowell Boys and Girls Basketball came away with big conference wins over Greenville on a night where they also honored veterans. The Red Arrow nickname is a homage to our military, so it is always a special night when we honor those who have served our country. This night was no different! Below you can find our Flickr album from the ceremony. We had a packed crowd that night! Shirts from Addix.
---
#6 Volleyball District Win
On the road in the district semifinals, Lowell Volleyball made a great comeback to punch their ticket to the district finals. The Red Arrows lost to the Rangers both times during the regular season, but trailing 2-0 at FHC were able to win three straight sets including a thrilling 16-14 tiebreaker to move on.
And we're the visitors with more students @lowell_SS and fans for @LowellVball @mhsaa District semifinal. #redarrows pic.twitter.com/RGnugQotTc

— Lowell Red Arrows (@Lowellredarrows) November 2, 2016
---
#7 Girls Basketball Wins OK White Title Game
Coming in at #7 is Varsity Girl's Basketball for their win in the OK White Conference Championship Game over Greenville. The Red Arrows traveled to Greenville for a winner take all title game and dominated start to finish to win 43-28. Here is the game summary from that night. The team finished 16-6 overall.
#8 Swim & Dive Inaugural Seasons
This year swimming and diving returned to Lowell. The Red Arrows team up with South Christian and host school Caledonia to form the CLS Boys Swim & Dive, and the CLS Girls Swim & Dive. The teams achieved remarkable success in their first year as a group with the boys finishing as OK Rainbow runner-up and the girls as OK Rainbow champions! Hats off to the great group of parents, coaches, and student-athletes from all three schools who made this possible.
---
#9 Boys Soccer Beats Northview on Penalties
Photo Credit – Lynn Zeman Draigh
In the district semifinals, Lowell battled conference foe Northview for a spot in the championship game in a dual between two top ten ranked teams in the state. A Logan Landman goal (Sam Hofman assist) put Lowell into the lead early in the 2nd half, but Northview was able to respond. The score would remain 1-1 through the 2nd half and overtime. It was Lowell's first penalty shootout in many years.
Lowell senior Collin Bowers hit his penalty kick, as did junior Jonny Draigh. Junior Elijah Dixon who hit the penalty kick that sealed the victory. Trevor Sherman came up big in net.
WE ARE THROUGH.

Lowell 2
Northview 1 (F, Penalties).

Lowell – ✅✅❌❌✅
Northview – ✅❌❌❌-

Dixon the game-winner, big stops by Sherman too! pic.twitter.com/4RqjuZ1F3w

— Lowell HS Soccer (@LowellSoccer) October 18, 2016
---
#10 – Lowell Softball Wins Conference Championship
Our #10 LHS Sports Moment of the Year belongs to Lowell Softball who captured their first conference championship since the 2012 season. The most remarkable thing about the softball teams accomplishment is they did it without a single senior on the team. The Red Arrows took a big lead in the conference standings with a doubleheader sweep of Forest Hills Central on community day, before clinching the title in a doubleheader against Greenville. This, combined with the remarkable year the JV had, has Lowell Softball with a bright future ahead. Emily Depew who earned all-region honors. Corah Miller, Kenzie North, CMU Softball commit Maddi Jordan, Megan Summerfield and Emily Depew all earned all-conference honors.
2017 OK White Conference Champions! Could not have been accomplished without all the support of alumni, parents, youth coaches and hard work pic.twitter.com/3gMkhfKHpq

— Lowell Softball (@softball_lowell) May 23, 2017
---
Honorable Mention
Football Comes Back to Beat FHN
In one of the more thrilling varsity football games of the year, Lowell faced a 28-13 first half deficit before roaring back to beat the Huskies 41-34. You can find some highlights from the game here along with pictures and highlights from the season from LHS junior and social media team member Joel Fritsma.
Cheer – Fan of the Week Segment
Lowell Cheer continued to cheer on the football teams this season, they also had their Fan of the Week segment. You can find our fans of the week right here! A great way to engage the student body.
---
Equestrian Places at States
The Lowell Equestrian team is year in and year out one of the states best. They proved that again, by advancing and placing in Division C at states.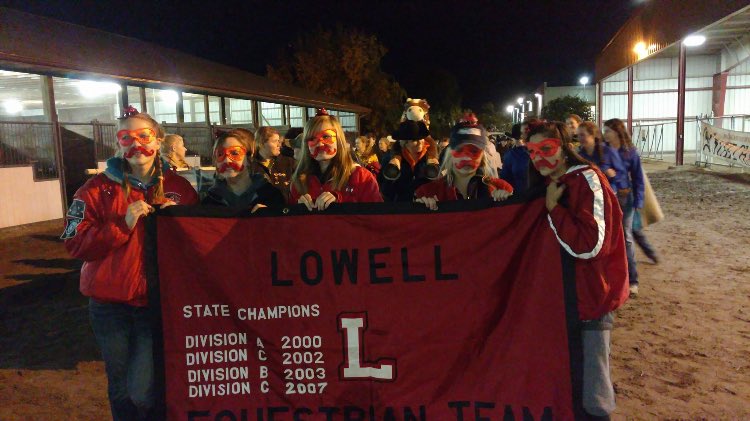 Results
---
Girls Lacrosse Beats West Ottawa

Heading into the week, Lowell had previously lost to the Panthers, and they were undefeated only a few days before. Here is the game summary from that night.
---
Shooting Team Builds on Success
After winning a national championship last year, the Lowell Shooting Team has had many successes this year as well. A mix of experienced shooters, and some younger student-athletes have Lowell set to be a talented team for quite a while!
The team was recently featured on WZZM!
---
Boys Lacrosse Pink Out
Our boys lacrosse teams hosted their own Pink Arrow games at Bob Perry Field, which ended up as two victories over visiting Byron Center. It was a great time and there was perfect weather for the event. The Bulldogs joined in the pink-out by wearing pink socks.
Video: http://www.wzzm13.com/sports/lowell-tops-byron-center-in-pink-arrow-lacrosse-game/433395444
Boys Lacrosse beats Northview
In a very intense game, the Red Arrows scored six in the fourth quarter to beat the Wildcats in a crazy come from behind win!
Summary: http://redarrowathletics.com/2017/04/28/lowell-high-school-boys-varsity-lacrosse-beat-northview-high-school-13-11/
---
Competitive Cheer Represents Red Arrows
Lowell competitive cheer represented LHS proudly throughout the winter including a third place finish in conference and several all-conference athletes.
Matt Beachler Breaks School Points Record
Matt Beachler broke the school record for most points in a career for boys basketball and helped the Red Arrows finish a successful year.
---
Cross Country Runs to Success
Dedication has been a big part of Red Arrow Cross Country, and their were several great performances for our cross country teams this year. At Hesperia, the Girls team finished as champions! The boys team finished runner-up.
Your 2016 @RedArrowCC Captains. Kyla Dixon, Kat Miller, Kyle Cater, & Eric Judd. #iownit #leadbyexample pic.twitter.com/pUxyer97fJ

— Lowell XC / T&F (@RedArrowCC) September 23, 2016
---
Austin Boone Wins State Title
Lowell freshman Austin Boone was Lowell's lone state champion in wrestling as an individual this year. He joins our championship section of our website.
---
Baseball – District Champions
Lowell Baseball will be able to add another district title to their banner after winning the district championship over Greenville in June. The team had a great year, and has many players who have committed to play in college.
Congrats to Baseball District Champs! 2-0 over Greenville in finals. Good defense and great pitching all day! pic.twitter.com/uzCDsAIJig

— Lowell Red Arrows (@Lowellredarrows) June 3, 2017
---
Girls Tennis Beats Comstock Park
The Lady Arrows tennis team won a thriller over Comstock Park as they won 5 to 3. The Lady Arrows had a young team and with plenty of players on JV and our middle school program, we are looking forward to a great future for the tennis program.
---
Caleb Kaufman's Marathon Match
Most boys tennis players with tell you that senior Caleb Kaufman's marathon match vs. Cedar Springs was one of the most exciting matches of the year. All the boys from both teams watched intently as the match finished well beyond everyone else, cheering them on US Open style.
---
Crew Rows Hard
The Lowell Crew team had many great performances this year. You can find our event summaries over on Redarrowathletics.com/crew.
---
Track Wins Hopkins Invitational – Boys and Girls
Boys and Girls Track swept honors at Hopkins, taking home first place trophies.
Girls – http://redarrowathletics.com/2017/05/06/lowell-high-school-girls-varsity-track-finishes-1st-place-6/
Boys – http://redarrowathletics.com/2017/05/06/lowell-high-school-boys-varsity-track-finishes-1st-place-6/
---
Lowell Senior Signing Night
The Red Arrows certainly represented this year at our Red Arrow Signing Celebration.
In addition to those pictured in our article, Maya Williams (Lacrosse – Cleary) and Logan Smith (Bowling – Davenport) also have committed to play college athletics next year. Red the article lined above for more info.
---
Gymnastics – Team States and Military Meet
Just like Lowell Equestrian, Lowell Gymnastics has been achieving great success over the past few years. They've also been on our moments of the year list often because of it! No difference this year as the team went to states once again. The Red Arrows also hosted a wonderful Salute to our Military Meet. The team finished 12th in the state.
Articles: http://redarrowathletics.com/2017/03/27/lowell-high-school-girls-varsity-gymnastics-scores-0-points-at-meet/
http://redarrowathletics.com/2017/03/05/lowell-high-school-girls-varsity-gymnastics-finishes-3rd-place-6/
---
Boys Basketball Beats Cedar Springs
Cedar Springs came out and played a very good game, giving the Red Arrows all they could handle. It came down to the wire as Austin Branagan (committed to play at Goshen next year) scored the game-winning basket, with fellow senior Zach Petroelje blocking the attempted CS basket as time expired.
BRAN GAME WINNER. Solid defense to prevent the last second shot attempt by CS.

Final
Lowell 69
Cedar Springs 67 #WinTheWhite pic.twitter.com/uI2vETw7HP

— Lowell Red Arrows (@Lowellredarrows) February 4, 2017
---
Paige Fosburg to States
For Girls Golf, senior Paige Fosburg advanced to the state tournament! She shot a 207 over two days at The Meadows at Grand Valley State University. Making it to the state tournament is an incredible accomplishment. Paige is one of very few LHS golfers to achieve this.
Paige Fosburg with some great hits @MHSAA golf state finals! #redarrows pic.twitter.com/8CCM1p3G6B

— Lowell Red Arrows (@Lowellredarrows) October 14, 2016
---
Girls Soccer beats Rockford
Lowell's 4-0 victory over Class A Rockford set the tone for what ended up being a great season for the Lady Arrows soccer team. The Lady Arrows finished as district finalists and top 3 in a tough OK White conference.
---
Girls Wrestling State Champions!
A fairly new sport on the team level, Lowell Girls Wrestling came out on top in their first year of official competition.
Our Lowell Girls Wrestling team has been crowned MIGWA state champions! @lowellwrestling pic.twitter.com/H9bXqPysxW

— Lowell Red Arrows (@Lowellredarrows) November 12, 2016
---
Pink Arrow IX
Pink Arrow is always one of the most exciting events of the year in the Lowell community, and annual makes an appearence on our moments of the year list for good reason. The money raised goes toward a great cause, we have many teams competing, and it is a night that unites the Lowell community. Below is our Pink Arrow video from this year, made by LHS students Eric Dimmick and Casey Depew.